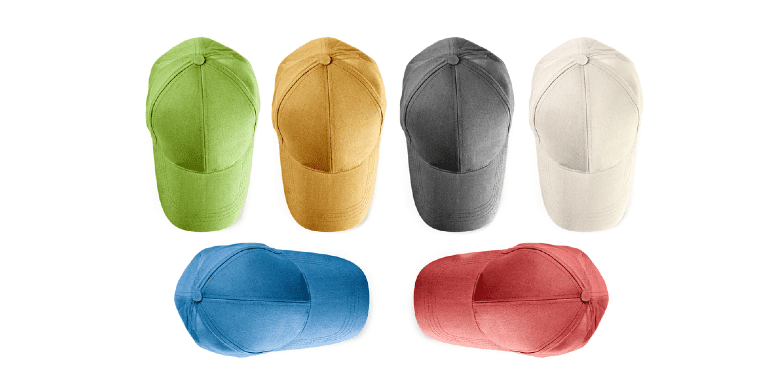 19 April, 2022
Why Are Promotional Baseball Caps So Effective
Australia is blessed with a wonderful summery climate and one way we have to protect ourselves is by wearing baseball caps. Take a stroll down the street and start looking more at people. You will see many wearing promotional baseball caps. They may have the branding of a business, it might have their favourite sports team, or it could even have the name of a fashion house. Whatever it is, you've just looked at it and that name has now been registered in your brain. See the name again and it gets reinforced. This is the power of a well-designed and branded baseball cap. It can give brand reinforcement when people don't even realise it is happening. We thought we'd list some of the main reasons why baseball caps should be part of your promotional merchandise.
1. Highly Visible: You can't get better than a baseball cap when it comes to visibility. There is nothing in front of it to block the view and it is almost at eye level, making it easy to read. The branding on the front just screams at people walking the other way and they can't help but notice what the branding says. Doesn't matter whether you do embroidery or a print, whatever is branded on the front of the cap will be seen by many people.
2. Reusability: One of the big factors in anything you brand to promote your business is the reusability of the item. You definitely don't want to give people something they think is worthless and will just throw away. You also don't want to give them something they will use once or twice and then lose it in the back of a cupboard. You want the item to be used over and over again. This is where a baseball cap comes into its own. Every sunny day, when that person steps outside, they are going to put some type of headwear on. If you have designed a good quality cap, yours will be their first choice. Imagine the ROI you get. That cap will be worn at least 200 to 300 times – more if it is their favourite cap. For an outlay of somewhere between $3 to $7, you have this item that will just keep on promoting your company.
3. Cost Effective: When you consider how many times the average baseball cap is worn, it makes them very cost-effective. When you buy in bulk, a decent baseball cap will set you back somewhere between $5 to $8. If you buy in larger quantities, that can come down to $3 or less, especially if you get a custom order from overseas. We specialise in these types of orders. Sea freight takes about 12 weeks in total from order to delivery, but what you get is a fully customised cap for about 40% less than purchasing it locally, making them a cheap product to buy.
4. Many Customisation Options: Unlike other products where you have a limited range of options when it comes to customising, baseball caps have almost unlimited options if you special order from overseas. Firstly, you have branding types. You have the basic embroidery or screen printing, but then you also have full-colour transfers, the entire cap sublimation printed, embossed or debossed peaks and even 3D embroidery. That's just the branding. Then we move on to things like the buckles. You can get them customised with an engraved logo. The taping inside the cap can be custom branded. Choose between metal or fabric eyelets. Get your own tag added to the cap. It's mind-boggling for such a simple product, how many parts you can customise. This allows you to target certain demographics, or just keep the branding in line with your company colours.
5. One Size Fits Most: Unlike other apparel items, you don't have to sweat it when it comes to sizing. Most caps are one size fits all and come with an adjustable strap at the back. No need to panic if you have ordered enough large-sized tee shirts. For baseball caps, you just count how many you need and that's it – simple!
Promotional baseball caps are the perfect merchandise item, so maybe consider them for your next promotion. If you are unsure what would work best, we'd be happy to discuss the options with you.
The Caps Only Team