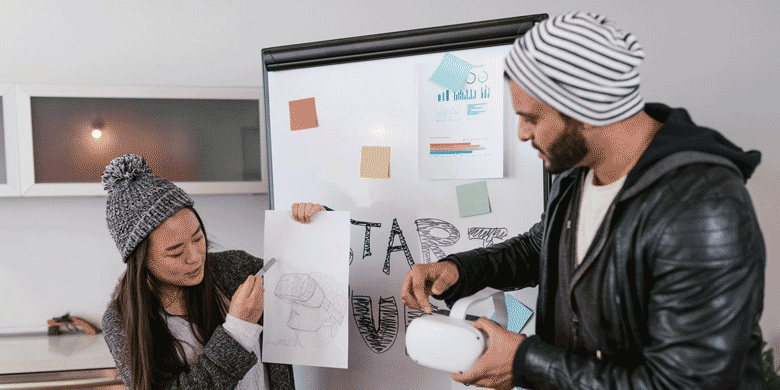 21 June, 2022
Stay Warm With Custom Beanies
Custom Beanies are a great way to promote your business, especially during the winter months, or if your company has a connection to colder weather. Possibly you run a ski resort, do outdoor activities such as walks or hikes, or maybe a tour guide or travel agency that is promoting winter escapes. There is a multitude of ways beanies can become part of your promotional merchandise and they can be very effective in promoting your brand if they are customised correctly.
Many younger people wear than as cool accessories to their clothing, so if that is your target market, keep your branding aligned with this. Keep it sharp and clean. Simple logos and text work best, especially if you get into thicker styles such as a cable knit. Fine lines do not work well as they get "lost" in the fabric. There is a huge range of beanies to choose from in the marketplace, so we thought we'd highlight a few of the more popular styles that we find sell well and are appreciated by clients.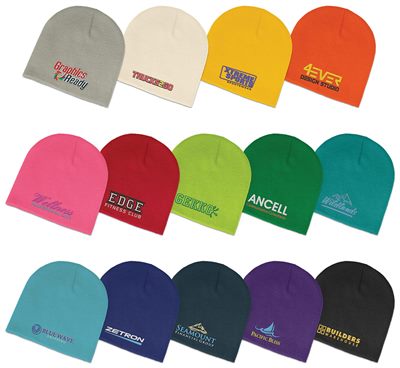 This is your classic style beanie we all know and love. Simple pull down and made from acrylic fibre, they are one size fits most and are a best seller. One reason is the price, as they are one of the cheapest beanies you can buy, but second is the clean branding area to show off a logo and lastly, it is the number of colours that are available. No other beanie style offers as many colours like this one, so it means whatever your corporate branding colours are, you will find one to match this style of the beanie.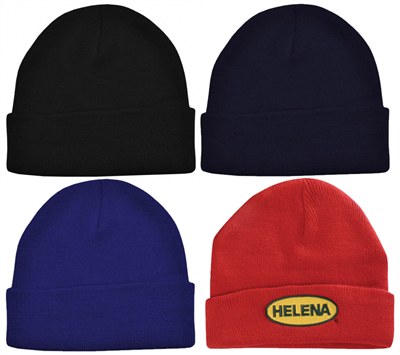 These beanies add a little more style as they have a rollback design. The only slight issue with this type of custom beanie is the branding area. As you have only the rollback area to embroider, it inhibits the height you can embroider. The compensation to this, is it focuses people on the cuff area and if done right, can enhance the branding, even though it is smaller. These have proven very popular as giveaways to promote the ski season, especially as a giveaway with purchases at ski shops.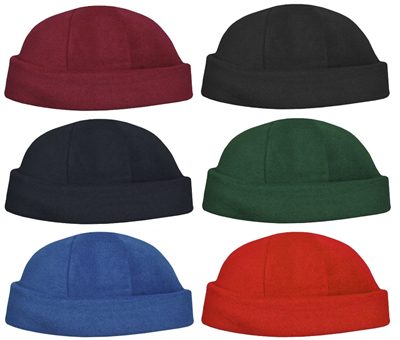 Polar fleece beanies add another level of warmth and comfort compared to acrylic beanies. If these are going to be used in colder climates, then the fleece is a great option. You still get a lot of different colour options, but you also have a lot more protection against the elements. make sure if you are purchasing this style that you check they are anti-pill, otherwise you will be continually plucking small ball clumps off the beanies. The rollback cuff adds a little more style to them and this is also where your custom embroidery would be done.
Now we are talking about some serious warmth and protection from the cold. Cable knit beanies are "chunky" and if you are targeting a younger demographic, then this is the beanie for you. Winter outdoor concerts or raves, winter ski areas or just as a general giveaway in wintertime, these beanies look cool, are stylish and are warm. They tick all the boxes when it comes to a beanie and there are many muted colours to choose from. They are one size fits most and the rollback cuff gives you plenty of room for your custom embroidered logo. If you want one type of beanie this winter, this is the one we would recommend the highest.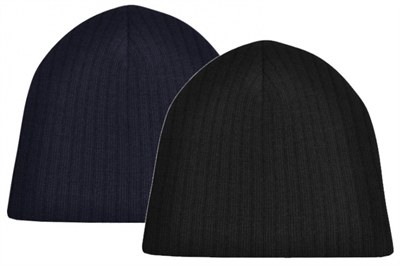 When it comes to a warm, luxurious feeling, nothing beats wool. If you are looking to give away a premium beanie, then this is the one to use. They are a straight, pulldown style, made from 100% wool and feel great on your head. There are many styles when it comes to woollen beanies. This is just one of them, so shop around before you buy. You can also get rolled cuffs, cable knit, two-tone and more.
Above are just some of the styles you will find on our site and in the marketplace. If you are looking to do a promotional giveaway with beanies and need help in choosing which one would work best, you can either have a browse through our site or you can email or call us and we'd be happy to offer assistance. With over 20 years of selling caps, we are confident we can help you choose the right one for your promotion.
The Caps Only Team