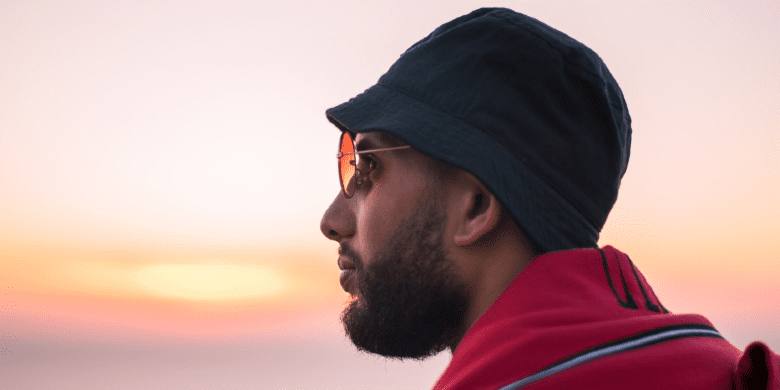 4 April, 2022
Promotional Bucket Hats – Are They The Hat For Summer?
Bucket Hats as they are now termed had humble beginnings around the 1900s for Irish farmers and fishermen – hence the name "fisherman hats", which is how bucket hats are still referred to sometimes. The name "bucket" came about because of its brim design with a wide, downward slant. They were designed to help protect from the rain, which is ironic as now people use them more as protection against the sun.
One great appeal of promotional bucket hats is they are unstructured. This means you can fold them up and put them in your pocket. You can't do that with a conventional cap that has a structured inner to it. Bucket Hats have come in and out of fashion over the decades. Did you know they were used by troops in the 1940s and then again in the Vietnam War in the 60s and 70s? In those days it was a dull olive material with no real fashion appeal, but that all changed in the 60s when it gained popularity as not only a functional piece of headwear but also fashionable.
Things really took off in the 80s when hip-hop became widely popular. Many of the rappers of the time started to wear them, which then popularised bucket hats to a much younger generation. They were won by the likes of Big Bank Hank of the Sugar Hill Gan, Run-DMC, LL Cool J and Jay Z to name a few.
There has always been a love/hate relationship with bucket hats. Part of that can be because they have also been portrayed as "daggy". If you are old enough to remember, think of Gomer Pyle or Gilligan on Gilligan's Island. This image didn't help the appeal, but then you fast forward and you have Rihanna promoting bucket hats for Melissa Forde, Usher and Justin Bieber being spotted wearing bucket hats and they took off again for popularity.
At the end of the day though, bucket hats are cool. The wider brim gives good protection against the sun and with embroidery or print on the front, they are a great way to advertise. If you can order larger volumes, you can get the entire hat customised to really grab people's attention. The most popular fabrics are cotton and microfibre as they both breathe well and that is important for the hat to feel comfortable for the wearer on hot, summer days. They also come in a big range of colours, so it is easy to match your corporate or team colours.
They have become the go-to hat for summer festival-goers or for anyone in general who is looking to protect themselves from the sun at outdoor events. There is also a huge appeal for the surfing community here in Australia. If your business is targeting the youth, bucket hats are a good option to engage with them. The best branding is to get them sublimated over the entire hat with bright, engaging graphics.
The big plus for a bucket hat compared to a cap is a cap will only protect the front of the face, whereas a bucket hat will protect both the face, ears and back of the neck. It has a high level of functionality, along with it having a "hip" appeal. They also speak to older generations as well, so they are a hat that can be marketed to many types of demographics.
If you'd like to know more about bucket hats, or are keen to order some but want to know more about pricing and what options there are for decorating, give us a call or send us an email. One of our sales team would be happy to answer any questions you may have on any of our headwear.
The Caps Only Team